Eine handgezeichnete Portraitzeichnung vom Foto
The idea for timeless and emotional gifts
Was schenkt man jemandem, der schon alles hat? Die Antwort auf diese Frage haben Sie gerade gefunden: denn eine handgefertigte, naturgetreue Portraitzeichnung vom Foto wird den Beschenkten definitiv beeindrucken. Kinder, Enkel, Großeltern, Haustiere, Emotionen bei besonderen Momenten – all das und noch viel mehr eignet sich ganz wunderbar, um es in einer Portraitzeichnung festzuhalten.
Aufgrund meiner fundierte Erfahrung im Zeichnen, Genauigkeit und der Liebe zur Kunst habe ich über die Jahre für unzählige begeisterte Empfänger gesorgt.
In vielen Stunden genauer, liebevoller Handarbeit entsteht ein detailgetreues Portrait vom Foto Ihres Lieblingsmotivs.
Da eben niemand so lange still sitzen kann, wird ein Foto als Referenz verwendet, um die Zeichnung zu erstellen. Wichtig dabei ist, dass der/die zu Zeichnende auf dem Foto gut zu erkennen ist – so werden die besten Ergebnisse erzielt. Gerne mache ich auch direkt ein Portraitfoto von Ihnen, das dann die Grundlage für die Zeichnung bildet.
SIE MÖCHTEN EINE INDIVIDUELLE PORTRAITZEICHNUNG vom Foto ANFERTIGEN LASSEN?
Eva has an incredible talent. Not just for the drawing itself. In the drawings she captures the essence of an animal even more. I have ordered something from her quite often, for me and also as a gift. Gladly again. I like to look at the color drawing of my puppy every day. They grow up so quickly.
Very friendly and timely contact with Ms. Pfeffer. More important for me was how my dog Buddy's drawing turns out. I was totally impressed and surprised how detailed and clean the work was done here. I already have a picture of my dog ​​drawn by another professional, but this work by Ms. Pfeffer is really outstanding.
Meeeeega! Trotz der Entfernung Graz - Wien gab es eine persönliche Übergabe. Das Bild meines Buben ist großartig. Wie ein Foto, nur besser. Die Portätzeichnung ist unglaublich detailliert und präzise gearbeitet. Das Talent von Frau Pfeffer eröffnete für mich eine ganz neue Welt von möglichen Geschenken für meine Liebsten. Das Bild ist wunderschön, die Künstlerin ist zuverlässig, flexibel, empathisch und einfach unfassbar talentiert. Dieses Gesamtpaket ist eine absolute Kaufempfehlung.
Order a portrait from your photo
You're searching for a special gift?
Wie wäre es mit einer handgefertigten Portraitzeichnung vom Foto?
Über eine handgefertigte Portraitzeichnung freut sich jeder, da liegt man immer richtig. Denn es ist etwas Einzigartiges, das nie aus der Mode kommt und über das man sich beim Ansehen immer wieder freuen kann. Darüber hinaus ist es an keinen bestimmten Wohnstil gebunden. Und mit dem entsprechenden Rahmen passt es in jedes Heim und verleiht ihm eine ganz persönliche Note.
With a portrait you always have an extraordinary gift where you can be sure that the recipient will enjoy it for years to come.
Eine Portraitzeichnung vom Foto ist das ideale Hochzeitsgeschenk
What do I give the happy wedding couple? If you don't want the 21-piece coffee set, the 49-piece cutlery or the tea strainer for 60 people, you can opt for an individual portrait drawing of the newly wed couple.
Whether this drawing is made from a photo of the place where the two of them met, from the first vacation together or from a particularly successful snapshot, you always have a unique gift. And even when the dishes are perhaps no longer complete or in use, this very special drawing as a reminder of this wonderful moment will put a smile on the face of the beholder even after years.
Different styles are possible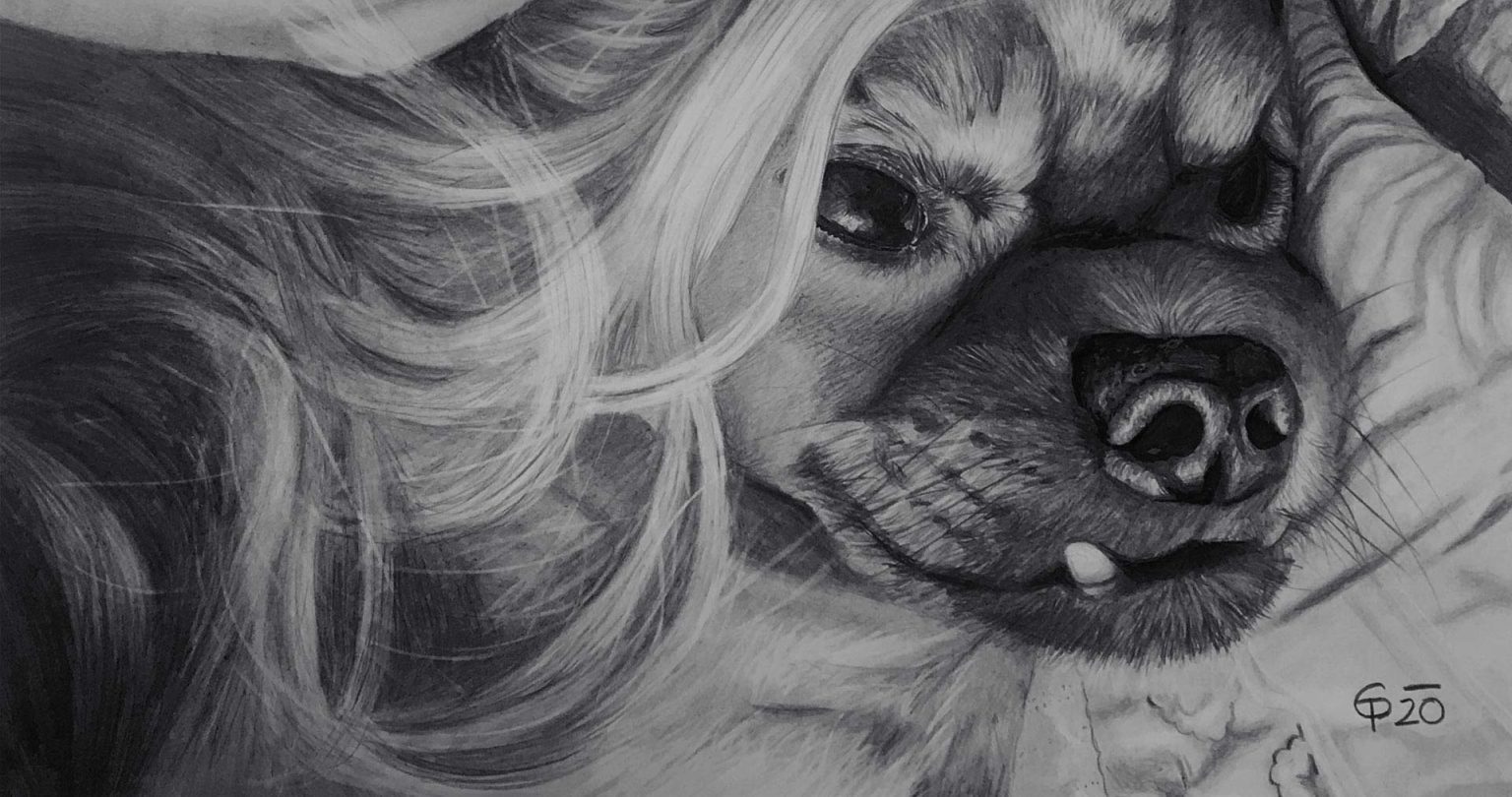 pencil and charcoal drawing
Pencil drawings are particularly popular because they go well with any interior design style and, especially in connection with the use of charcoal, result in a particularly high-contrast work of art.  
drawing with colored pencils
The particular advantage of colored pencil drawings is the possibility of being able to reproduce skin, eye or coat color in a particularly realistic way. Very popular, especially for drawing fur noses!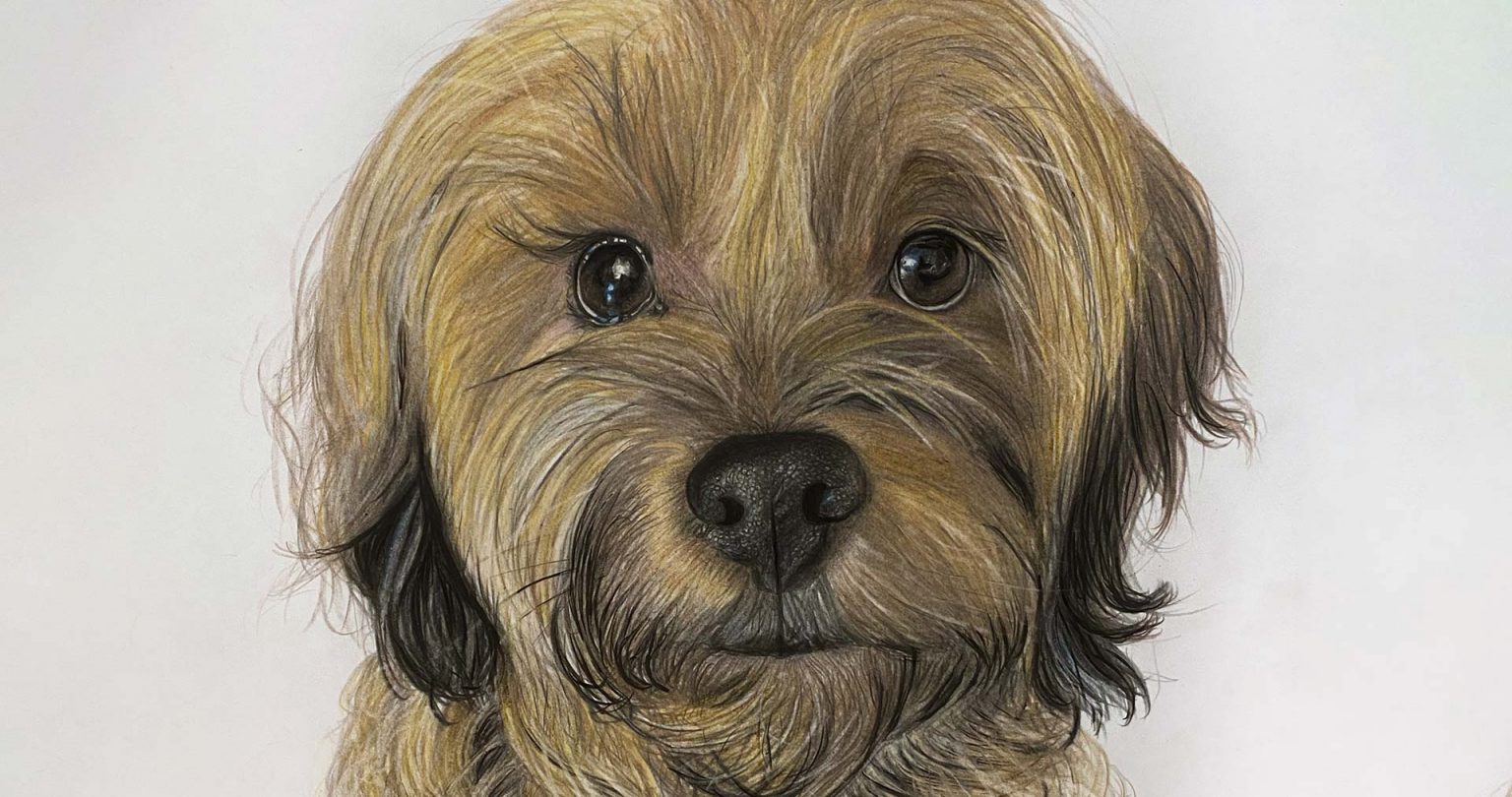 Oil paintings give the opportunity to have a little more artistic freedom. Depending on the style you want, you can either work with realistic colors or with more daring and expressionistic colors.