drawing for over 20 years - and not a bit tired
I have been drawing for over 20 years - most of the time only privately for friends and family - and 5 years ago I decided to implement the cliché "from hobby to job". I have never regretted this step and I am still happy to see many happy customers later when I see my work move someone to tears or when I see the radiant joy on their faces.
I have developed my skills in self-study and through years of practice. Time and again I have refined my technique and adapted the materials and aids I used in order to achieve the ideal result with my drawings.
Drawing is my absolute passion
There is probably nothing I would rather do than draw and paint. Many people have a romantic idea of an artist who can easily draw a photo. In fact, there is a lot of work going into each and every painting job. Starting with the selection and combination of the right templates (photos). And especially in the case of family portraits, the arrangement of the people and the background. Thanks to my many years of experience with such special orders, I know exactly what is important and can meet almost all my customers' wishes.
For me it is an absolutely unique moment every time when something suddenly comes to life on the previously white cardboard box. If I succeed in capturing the essence of a person or a favorite animal, that is the greatest for me. For particularly challenging projects, I like to call on my inner perfectionist to meet these demands on my work.
Jedes Bild erzählt eine Geschichte, die ich mit meinen Zeichenkünsten zum Leben erwecken möchte.
Bilder zeigen die besondere Beziehung der abgebildeten Personen (und Tiere), die es gilt über die einzelnen Linien auf dem Zeichenkarton oder der Leinwand zum Ausdruck zu bringen.
Often there is no such thing as a perfect photograph that fully shows this special connection. Then I am happy if I can fulfill this special wish of my customers with my skills that have been tried and tested for over 20 years. An expression of a special connection held for eternity.
Für mich ist es immer eine ganz spezielle Freude, fertige Bilder persönlich übergeben zu können. Wenn ich dann sehe, wie gerührt und glücklich meine KundInnen sind, berührt mich das. Dann weiß ich, dass ich meinen Job gut gemacht habe.
Ich habe schon in der Schule gerne gezeichnet, daherkommt auch meine jahrelange Erfahrung. Als sehr visueller Mensch, der seine Stärke im räumlichen Vorstellungsvermögen und dem Umgang mit grafischen Formen, Winkeln und Tiefen hat, war für mich schnell klar, dass mir der Fotorealismus am meisten liegt.
I prefer to draw with special charcoal pencils or colored pencils on Bristol board. This firmer cardboard enables a particularly detailed drawing, which makes the special expression of my works of art. But I'm also discovering oil painting more and more because it offers other possibilities to play with colors. Mixing colors has always been a lot of fun for me.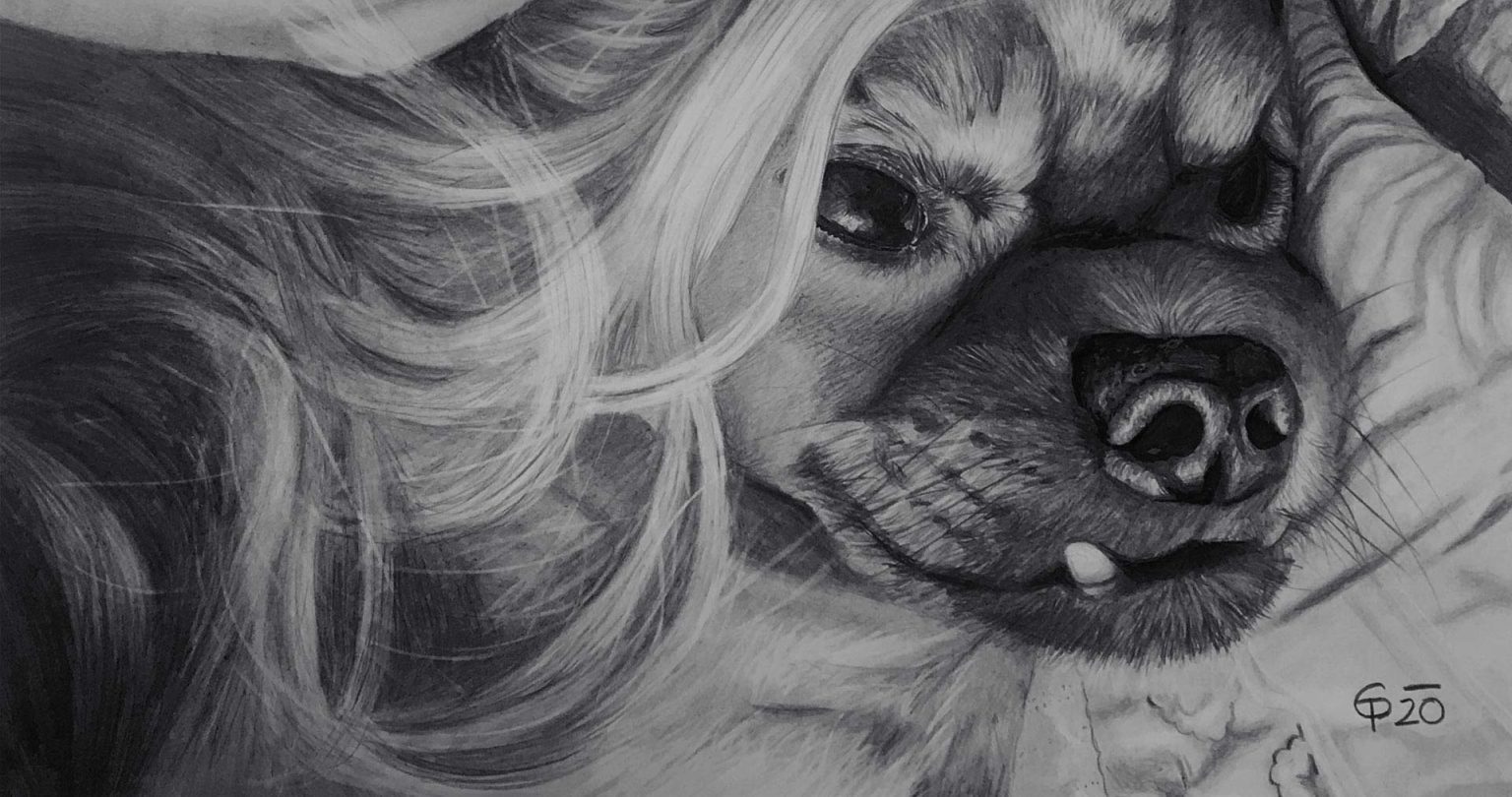 pencil and charcoal drawing
Pencil drawings are particularly popular because they go well with any interior design style and, especially in connection with the use of charcoal, result in a particularly high-contrast work of art.  
drawing with colored pencils
The particular advantage of colored pencil drawings is the possibility of being able to reproduce skin, eye or coat color in a particularly realistic way. Very popular, especially for drawing fur noses!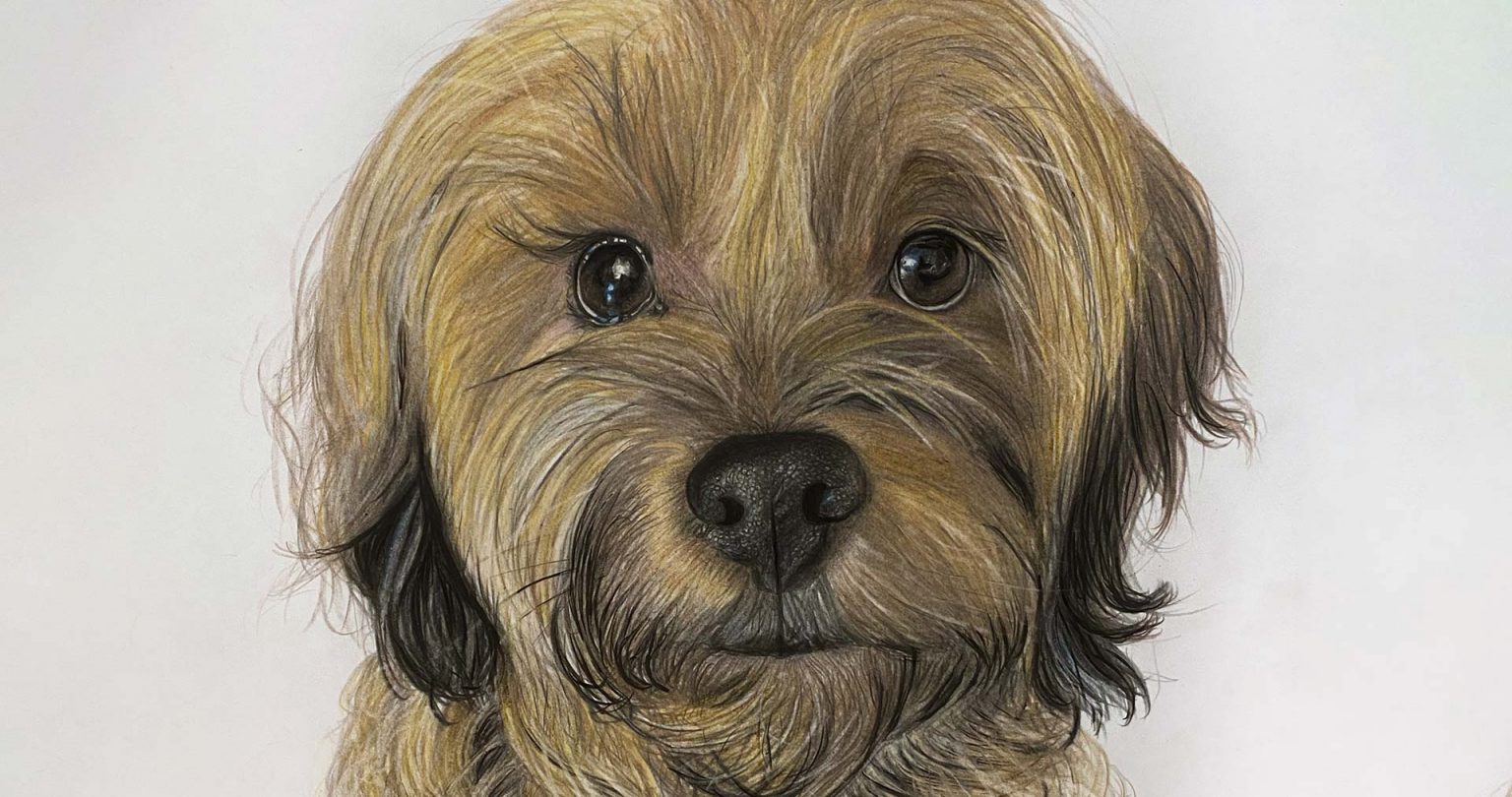 Oil paintings give the opportunity to have a little more artistic freedom. Depending on the style you want, you can either work with realistic colors or with more daring and expressionistic colors.